| | |
| --- | --- |
| | Drop-Down Lists (Pickers) |
This help file applies to an out-of-date version of MainBoss.
The most recent version of MainBoss is MainBoss 4.2.3.
For the latest version of this help file can be found here.
< Previous section | Table of Contents | Index | Next section >
Editor windows often specify information using drop-down lists, also known as pickers. For example, the "Requestor" field in a work request editor is a drop-down list:

As shown above, a drop-down list ends with three symbols:
The left-most arrow displays a list of available values for the field. In the case of "

Requestor

" this will be a list of the people whom you've authorized to submit work requests.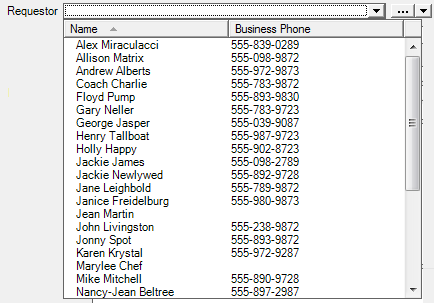 The "..." opens a window showing the complete table. For example, if you click the "..." for "

Requestor

", you get the Requestors table. Click an entry in the table, then click

Select

to fill in the original field.

The right-most arrow of the drop-down list opens a menu that gives you a number of options. For example, if you click this arrow for the "

Requestor

" field, you'll see the following:

lets you look at the existing

Requestors

table, just like the "..." button. lets you create a new requestor record; if you do this, the requestor will be filled into the original "

Requestor

" field once you save and close the new record. This makes it easy to create new records as needed if you don't already have an appropriate record. lets you edit the selected requestor record, while lets you look at the record (but not change it). , , and are related to importing and exporting data; for more information, Importing and Exporting Data in Tables. deletes the current contents of the field (if any).
See Also:
< Previous section | Table of Contents | Index | Next section >